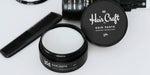 In the vast world of hair styling products for men, picking the perfect one isn't always easy, especially if you like to change up your look from day to night. When versatility matters, hair paste is what you need. It's ideal if you are looking for a semi-matte finish with low-to-medium hold. It's also lightweight, commonly water-based, and pliable allowing you to achieve a texturized, effortless style on any length of hair.
Furthermore, since it is normally made with water-based ingredients, it's easier to wash out and often better for your hair. When it comes to ingredients, high-quality formulations like ours include beeswax to hold your style in place and castor seed oil to keep your hair healthy and hydrated. Unlike denser products, such as pomade, paste is great for a loose, reworkable, messy look. Now let's dive into how to use hair styling paste.
How to Use Hair Paste for Men, Step by Step
To learn how to use men's hair paste and get the results you were hoping for, follow the basic steps below and your hair will look great in no time.
Prep Your Hair
Before applying paste, give your hair a good wash - you don't want today's product competing with yesterday's grime. Once washed, towel dry or blow dry your hair. Paste can be added to both wet and dry hair so don't worry if you don't have time to completely dry your hair.
Grab a Dime-Sized Amount of Paste
If you're not sure how much hair paste to use start with a dime-sized amount and work your way up. More paste can always be added, but you don't want to start with too much out of the gate.
Activate Paste
For best results, activate and warm up the paste by rubbing it in between the palms of hands.
Apply Hair Paste
To apply your styling hair paste, slowly rake your hair from back to front initially, then work it in the opposite direction, then push it back into the direction you want your hair to lay. For full hold and control, make sure every strand is coated from root to tip.
Style Your Hair
Grab a comb and start finalizing your style. If you are looking for how to use hair paste on medium hair, blow dry your hair on the low heat setting while brushing your hair upwards with a comb to get more volume and texture. If you're looking for how to use hair paste on short hair, simply follow all the steps above but use a little less paste to start with and a comb to sharpen your style.
Bonus: Check out our How to Use Men's Hair Paste Tutorial Video to see it in action.
Of all the styling products you can choose from, paste is likely the most versatile. And now that you know how to use hair paste, you will be able to achieve a variety of natural looking hairstyles - the choice is yours. But remember to check out that ingredient list before committing to a brands formulation. A high-quality hair styling paste should use natural ingredients that smell refreshing, help lock in moisture, give your hair structure without stiffness, and wash out effortlessly.
---