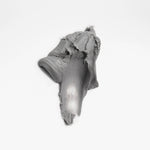 If you're overwhelmed by all the styling products on the market today, you're certainly not alone. Products of all different consistencies exist, and it can be difficult to decide which one is right for your style. Hair clay for men is a relative newcomer, but if you're looking for volume, texture, and medium hold, it's a must-have in your product arsenal.  
Hair Clay Is, Well, Clay But Better 
If you've ever taken a taken a nature hike or come across clay camping or climbing a mountain then you may have some ideas about clay. Kaolin, which is often used in skincare products, is an amazing styling clay ingredient. High quality clay pomade is surprisingly dense and hard at room temperature, but it becomes soft and malleable when warmed between your palms. Good product formulations, like ours, contain not one, but two types of clay. Kaolinite strengthens your hair, and bentonite absorbs natural oils and dirt, which helps extend your style longer. These two ingredients usually appear near the top of the product ingredient list. Kaolin is number three on ours.  
Styling Clay Creates Texture Without Stiffness 
Know someone who has that "I woke up like this" hair style or natural look? Chances are, he's using hair clay to achieve texture and volume. If you've ever tried to style your hair with a cream-based product, you were probably frustrated by the results. Listen carefully. Your hair's not the problem. The wrong styling product was most likely to blame. To create texture that lasts all day, you need a product that is intentionally dense. After you've washed and towel-dried your hair, work the styling clay between your palms and let the natural heat of your hands emulsify the product. The moisture in your hair will give the product enough slip, so you can build your style gradually without it feeling crispy-crunchy at day's end.  
Matte Pomade Offers Natural Hold Without Unnatural Shine 
Some hair styling products offer amazing hold but coat the hair in a glossy layer. Not so with hair clay. Kaolinite and bentonite give styles long-lasting structure with a completely matte finish. And since both types of clay naturally provide hair volume for hair strands, it's a great choice for men with fine or thinning hair.  
~ ~ ~ 
When you want to look fresh and pulled together without the tell-tale signs of hair styling products, clay pomade delivers. Bonus: ours is also chemical free and made with earth-based ingredients.