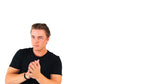 We always get the question, "How to use Hair Clay?" We are here today to answer that for you. Whether you've got a fade or are hoping to create a natural comb-over or messy-casual look, hair clay is essential. Before you grab a glob and start going to town, stop and ask yourself, "What type of look am I going for today?" Great results only come with great prep, and creating a style that looks, holds, and behaves the way you want it to requires a few easy steps. 
#1 - Start Fresh 
As tempting as it may be to rake your styling clay through your locks, wash and towel dry your hair first. Oil and dirt – not to mention yesterday's product – will all interfere with your clay pomade.  
#2 - Prestyle 
Okay, we know you're thinking, "Isn't the matte clay supposed to style and shape my hair?" Ultimately, it will, but if you're aiming for a style that goes against your hair's natural tendencies, a little directional blow drying can make a big difference. Hair can be hard to tame, and getting your hair to lay opposite the way it naturally grows requires a bit more coaxing. We recommend getting your hair to a point where it's 95% dry. Why? We've gathered feedback where the dryer your hair the stronger the initial hold is. Obviously, to each his own but, if you're going for a natural matte finish the dryer the better. 
#3 - Use a Light Hand 
Even if you think you'll need a ton of product to tame your hair, err on the side of caution. Warm a pea-sized amount of matte pomade between your palms until it's completely smooth. Your body's natural heat will help emulsify the clay and make it easier to apply. Our hair clay is dense, be sure to take your time to really warm it up between the palms of your hands before application.  
Pro tip: Sometimes it might take a little elbow grease to dig your clay out of the jar, try using your thumb or finger-tip to collect some clay of the top.  
#4 - Build Up Volume 
Since clay makes hair feel plump and voluminous, you may be tempted to just run your hands through your hair from front to back and call it a day. However, the secret to achieving volume and lift is to ensure that the hair is thoroughly coated from all sides. Work the product through your hair by pulling everything forward, and then style it from the front. Not only will you guarantee all-day medium hold, but your hair will have more definition and won't look flat. 
#5 - Finish Strong 
To seal the deal, tamp down any flyaway hairs with hair spray or a little extra clay. If your style has a "woke up like this" look, the clay will make it easier to touch up during the day, so use whichever product suits your style.  
~ ~ ~ 
These five steps will give your hair amazing volume, great hold, and a natural finish, but there's one more thing to remember. Hair clay is only as good as its ingredients, so steer clear of anything that isn't dense and solid at room temperature, and always check your labels. If kaolinite or bentonite aren't near the top of the list, keep shopping. Your hair deserves better. 
---