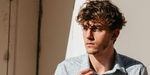 Have you ever wondered why some guys just seem to have naturally perfect hair? Great style, volume, and texture don't necessarily come from good hair genes. There's often a little science and more than a few hair products in play.  
Sea salt spray harnesses the power of natural ingredients, like Mediterranean sea salt and sea kelp extract (SKE). Together, these compounds add volume, body, and texture without stiffness or stickiness. Here are four ways to get the most out of your texture spray.  
One-and-Done 
Busy days call for quick styles that get you out the door pronto. If you're already late and need to hit the road, grab your beach waves spray, shake that bottle, and spritz the roots of your hair three or four times. Rake your fingers through your towel-dried hair to distribute the product and let your hair air-dry. That's it. You're done. 
Volume Booster 
Want more body and volume without a lot of effort? Work your sea salt spray through damp or dry hair then grab your blow dryer and blast it with medium heat. You can use a brush or your fingers. Just be sure to avoid high heat (aka anything over 400 degrees) because it can damage your hair. Tip: The finer your hair is, the less heat it can take. 
Texturizing Pre-Styler 
Before you panic about the number of steps involved in this approach, we define a pre-styler as anything that aids in the creation of your final style. Since hair texturizing spray boosts volume, try using it before your favorite styling product. Simply spritz your hair as indicated above, dry it fully, then use your go-to clay or gel pomade to achieve a fresh finish. 
Style Refresher 
This last tip may actually be a lightbulb moment for you. Ever woken up late and had to rush out the door without washing your hair? We have! Instead of reaching for dry shampoo, sea salt hair spray can mask second-day hair while giving you style and texture. Spritz the hair from middle part of your hair to the tips. Use your hands or a wide tooth comb to distribute the product thoroughly. Comb your style into place and head out. 
~ ~ ~ 
No matter what style you're going for, start with the best product available. Sea salt sprays are not all the same, so pick a product with high-quality ingredients, look for SKE and Mediterranean sea salt for the best results.