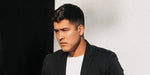 Not all hair product needs to come with a user manual, but one that should is men's hair styling powder.  Since the majority of guys have never used hair powder, it tends to raise a lot of questions. For instance, you may be wondering how to use hair powder, what hairstyles is hair powder used for, does hair powder work, and what hair styling powder is made of. Let's cut to the chase.
Hair powder, volumizing powder, hair styling powder, texture powder, and volume powder are synonymous terms for a dry product with enough tack to give your short, fine, or thinning hair texture, volume, and control. Most formulas include silica silylate and/or oryza sativa (aka rice starch) because it clings to the hair, giving it temporary fullness and lift while still looking matte and natural.
And if you're thinking that baby powder or dry shampoo will achieve the same results, think again. Talc simply absorbs oil, and most aerosol dry shampoo is alcohol-based and can dry out your hair.
How to Use Hair Styling Powder
Although not always required, for best results, we recommend hopping in the shower before applying volume powder. Clean hair is often thought of as the foundation of a great style. Furthermore, make sure your hair is completely dry before applying hair styling powder. Wet hair and dry powder don't mix, take our word for it.

2. Apply Hair Styling Powder
Now that your hair is washed and prepped for styling. Let's break down how to use volume powder - step by step.

If you're not sure how much hair powder to use for your hair, start off by applying 1-2 shakes into your hands - a little goes a long way here. If desired, you can also apply your hair styling powder by parting your hair with a comb and sprinkle the styling powder directly onto your scalp.
Then, simply run the powder through your hair ensuring you are reaching the roots. There should be a small amount of friction, but if you have trouble running your hands through your hair, you've probably used too much.

Lastly, using your hands, work your hair into the direction and style you are going for. Feel free to add a few more dashes of powder where you see fit, especially if you have longer hair.

If you're not achieving the style you want with your volume/texturizing powder, try use a pre-styler like sea salt spray if you have thin hair. Each product will help increase the volume, whereas one on its own may not be enough. Our Sea Salt Spray and Hair Powder Bundle is the great at creating natural looking waves and volume simultaneously.
Why Use Our Hair Styling Powder?
Given its ability to give your hair structure without weighing it down, our hair powder is one of the most versatile hair products on the market. Our lightweight and reworkable formula can help instantly texturize and volumize your hair, ensuring a fuller and natural look and feel. And by following the above step-by-step guide for how to use hair styling powder, we are confident that you will feel good about how your hair looks all day long.
 
Shop now and use code HCPOWDER for 20% off
---